2 Guns **** (2013, Denzel Washington, Mark Wahlberg, Paula Patton, James Marsden, Edward James Olmos, Bill Paxton) – Movie Review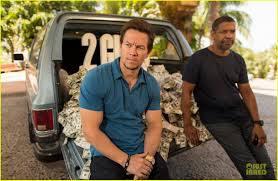 Denzel Washington and Mark Wahlberg chat away inconsequentially, Tarantino-style, in a diner, discussing meals and donuts while they plan to rob the sleepy bank across the road. But nothing is what it seems in this all-action, all-comedy conspiracy thriller. Turns out Denzel's working for the DEA and Mark's working for the US Navy intelligence, and neither knew. How neat is that! And how incredible!
Their bosses think it's a good idea to carrying on robbing the sleepy bank to take a drug cartel's money. But, when they do, they find that instead of the three mill they're expecting in cash in the safe deposit box, there's $40million or so, and that the money belongs to the CIA. Unfortunately for them.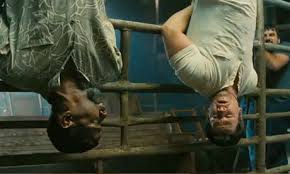 The lovely DEA lady (Paula Patton), the handsome Navy man (James Marsden), the vicious drug kingpin (Edward James Olmos), the evil CIA man (Bill Paxton) and all their various henchmen all want the money. Something's gotta give, somebody's gonna have to die, maybe almost everybody. Everyone's gonna get hurt, most everyone shot. Two guns? Maybe two thousand and two.
It's probably a very violent and cynical movie, I know, but I really liked 2 Guns. It's a great caper, funny, exciting, well played and nicely handled. The story, action and gags never once flagged, got boring or repetitious, not once in its hour and three quarters.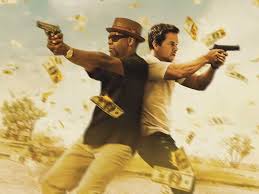 Two people you'd never really think about putting together, Denzel Washington and Mark Wahlberg, play the warmth and the silliness just right, sharing good chemistry. Both of them are quite serious blokes, but over the years they've really got a handle on being funny, and here they relax and play the laughs to the max. Wahlberg is especially funny, mounting a laugh and charm attack, but Washington is really good too.
All the cast are excellent, so it's unfair to single anyone out but here goes anyway. Both Olmos and Paxton hit exactly the right note on their Mr Evil characters. It's so easy to overdo these broadly written, stereotype roles, but they take it all the way, then stop just before it's too far over-the-top. Cast against type, Marsden profitably leaves his nice-guy persona at home, and Patton is ideal, just the sort of girl you'd want to work under.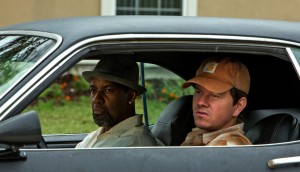 It's based on Steven Grant's Boom! Studios graphic novels, so Icelandic director Baltasar Kormakur (101 Reykjavik, The Deep) gives it a visually stylish spin, with various catchy low-level, or high-level shots and framing devices. Not too much, just enough to make it look intriguing and special. Blake Masters carves out a fine screenplay.
Fans of laddish comedy and freewheeling action are taken care of big time in a film they'll eventually want to own and watch maybe a couple of times a year. Bring on 2 Guns 2.
© Derek Winnert 2013 Movie Review
Check out more reviews on http://derekwinnert.com/